[edit]
Electronics
[edit]
AXIOM Beta PCB Stack
Version 4: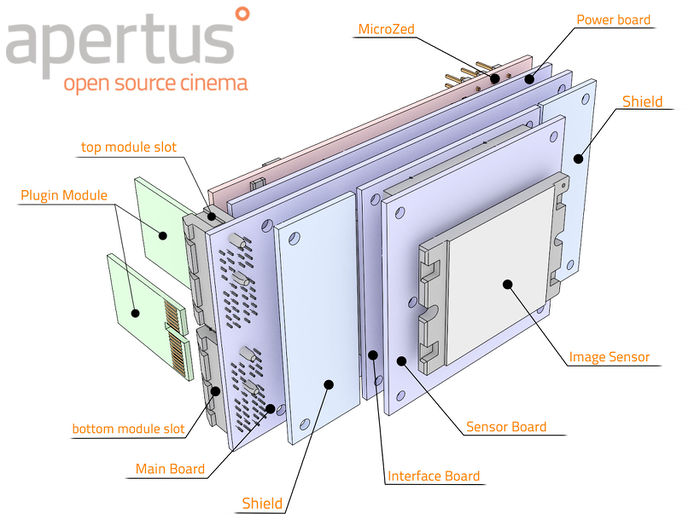 All dimensions are still not final! Work in progress...
File:PCB Stack Concept V03 02.pdf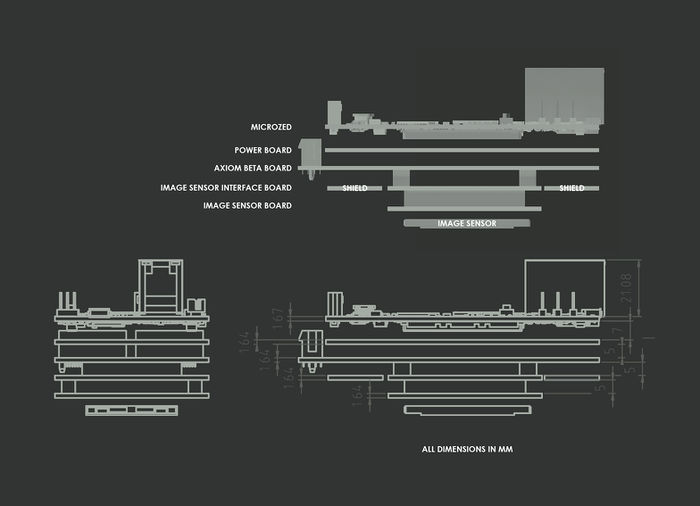 [edit]
Printed Circuit Boards
Boards: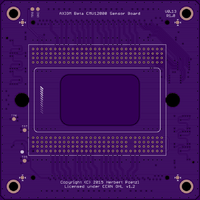 Beta CMV12K THT Sensor Board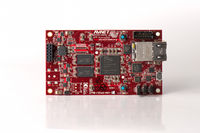 AES-Z7MB-7Z020-SOM-G Microzed

Interface Shield 1 Concept

4K HDMI Plugin Module Work in Progress
[edit]
Image Sensor Frontend

[edit]
Image Sensors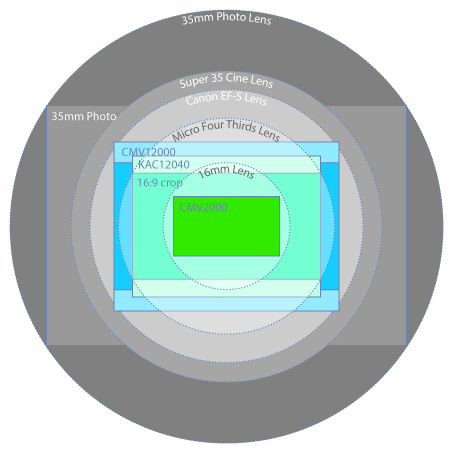 Axiom Beta Model
16mm
Four Thirds
Super35
Brand
CMOSIS
ON Semionductor
(prev. Truesense/Kodak)
CMOSIS
Model
CMV2000
KAC12040
CMV12000
Development Status
in development
planned
completed
Type
CMOS
Shutter Type
Pipelined Global Shutter
Global & Rolling Shutter
Pipelined Global Shutter
Color filter Array
Bayer (Color model)
None (B/W model)
IR filter
no
Anti-Aliasing Filter (OLPF)
no
Size
10.6 mm × 5.94 mm
ø 12.1 mm
18.8 mm × 14.1 mm
ø 23.5 mm
22.5 mm × 16.9 mm
ø 28.2 mm
Crop Factor
Full Frame ∕ 3.56
16mm Film ∕ 1.05
Full Frame ∕ 1.84
Four Thirds ∕ 0.96
Full Frame ∕ 1.54
Super35 ∕ 1.10
Aspect Ratio
16:9
4:3
4:3
Pixel Resolution (h × v)
1920 × 1080
4000 × 3000
4096 × 3072
Pixel Size
5.5 µm
4.7 µm
5.5 µm
Dynamic Range
10 stops
15 stops (HDR mode)
9.3 stops (Gobal Shutter)
12 stops (Rolling Shutter)
10 stops
15 stops (HDR mode)
Sensitivity
200 ISO
~ 400 - 1250 ISO
Max Frame Rate @ Bit Depth
340 fps @ 10 bit
70 fps @ 12 bit
110 fps @ 8 bit
70 fps @ 10 bit
30 fps @ 12 bit
10 fps @ 14 bit
300 fps @ 10 bit
180 fps @ 12 bit
More info
[edit]
Shields
The AXIOM Beta has 2 medium speed IO interfaces to be used with "shields".
One 200Mbit/s shield interface
One 1Gbit/s shield interface
Shields are not hot plug-able
[edit]
Plugin Modules
There are 2 high speed IO interfaces where "plugin modules" can be hot plugged
6.2Gbit/s each:

6 ✕ 950Mbit/s
500MBit/s GPIO

Two modules can be combined in one 12.4 Gbit/s double height module
Hot pluggable
2x PCIe connectors (not using PCIe signaling)
[edit]
EEPROM
All PCBS we created for the AXIOM Beta (beside the AXIOM Beta Mainboard) have an onboard EEPROM. These chip provide between 4KB and 16KB of non-volatile memory. Our primary use for these EEPROMs is to store unique identifiers for each board/type. In a modular stack of PCBs the camera firmware can read the EEPROMs of each PCB and identify which boards, versions and revisions are attached (as different board versions might need different drivers/firmware elements).
[edit]
Proposed Unique ID Structure
2 byte board type identifier (65.536 possible values):

00 - AXIOM Beta Powerboard
01 - AXIOM Beta Interface Board
02 - AXIOM Beta Sensor Frontend
03 - AXIOM Beta Single Slot Plugin Module
04 - AXIOM Beta Dual Slot Plugin Module
05 - AXIOM Beta Low Speed Shield
06 - AXIOM Beta Medium Speed Shield


1 byte board output identifier:
number of output interfaces


1 byte board active/passive identifier

4 byte board current draw range identifier
2 bytes typical low end range in mA
2 bytes typical high end range in mA


2 byte board length in mm

1 byte number of used LVDS lanes

1 byte number of used GPIO channels

2 byte board identifier:

00 - AXIOM Beta Powerboard
01 - AXIOM Beta Interface Dummy
02 - AXIOM Beta Interface Board
03 - AXIOM Beta CMV12000 ZIF Sensor Frontend
04 - AXIOM Beta CMV12000 Socket Sensor Frontend
05 - AXIOM Beta 1x HDMI Plugin Module
06 - AXIOM Beta 3x Displayport Plugin Module
07 - AXIOM Beta 1x PMOD Plugin Module
08 - AXIOM Beta 3x PMOD Plugin Module
09 - AXIOM Beta 1x HDMI IN Plugin Module
0A - AXIOM Beta Dual Riser Plugin Module
0B - AXIOM Beta Debug Shield



2 byte board version identifier
(ASCII A.BC corresponding to label printed on PCB)

2 byte board revision identifier
(ASCII A.BC corresponding to label printed on PCB)

128 byte UUID
[edit]
AXIOM Beta Generations
Voucher holders get at-cost hardware upgrades and replacements. But any voucher holder can decide at which stage they actually acquire the current AXIOM Beta hardware. Software upgrades are and will always be free and publicly available. You can at any time upgrade or downgrade your camera software.
[edit]
AXIOM Beta I - Developer Edition (Early Beta)
Intended for developers and early adopters - first generation that is currently being shipped - small production batch size of around 20 - 30 cameras.
Limitations:
no enclosure yet - skeleton only (3D View)
CMV12000 image sensor only
passive sensor cooling only (works fine)
passive E-Mount only (passive Canon / Nikon adapter available)
screw-on UV/IR cut off filter instead of camera internal one
Interface Board limits image sensors throughput to 150FPS@4K (faster Interface Board replacement will be available later)
Dual 5V 3+A AC power supply only (included)
1x HDMI 1080p60 output module and PMOD debug module are the only plugin modules available currently (AXIOM Beta has two slots)
Solder-on area on AXIOM Main Board not populated with gyroscopes/magnetometer/accelerator yet (will be available later on)
Power Board requires manual reconfiguration (trimmers) when switching to a different image sensor module (potentially in the future)
no power-on switch on camera yet (camera turns on when power is connected)
cameras need to be user calibrated -> Factory Calibration
Software/Firmware is still work in progress
[edit]
AXIOM Beta Topics
[edit]
Connectors & Interfaces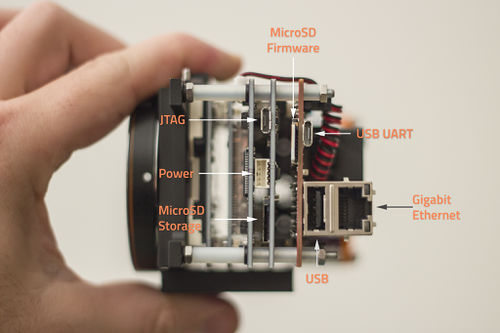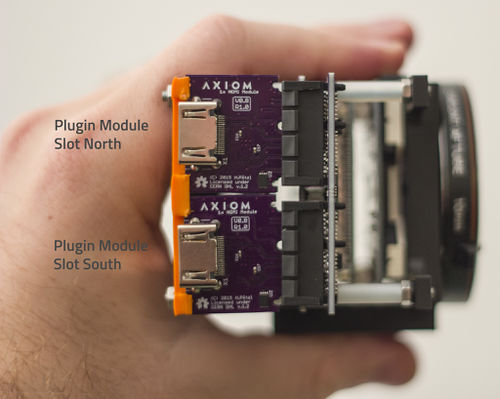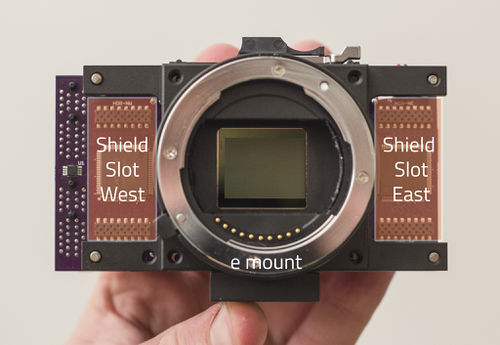 [edit]
Power Supply
The Beta requires two 5V inputs (one for the Microzed, one for the rest of the hardware). Each 5V supply should be able to provide at least 2-3A. The total power consumption in normal operation was measured to be around 10W. During boot up there are spikes of higher power consumption.
[edit]
AC Power supply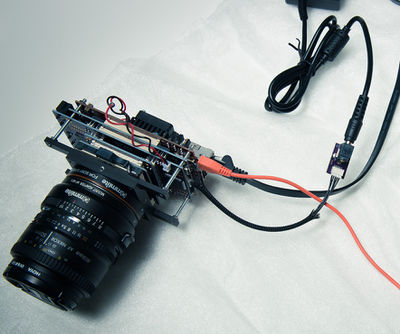 Each AXIOM Beta ships with an external AC power supply that provides 5V and 6-8A.
[edit]
DC Power Supply / Battery
An external battery needs to provide two clean and accurate 5V supplies rated at 2 Amps or more. We have witnessed a battery that could not provide the required peak currents and resulted in visible horizontal "wave" noise artifacts being visible in the image of the Beta.
For connecting the Beta to dual USB power supplies a special cable is required:

Components List:
1x  Molex   87439-0500              Pico Spox 5pin Housing
4x  Molex   87421-0000              Pico Spox Crimp Terminal AWG24
4x  19x36AWG - 45x40AWG             24AWG Flexible Cable
2x  CNC Tech 1002-024-01300         CONN USB A TYPE SOLDER ASSY
2x  CNC-Tech 1001-027-BL-01000      CONN HOOD USB A MALE BLACK
    CNC-Tech 1001-026-BE-01000      CONN HOOD USB A MALE BEIGE

TODO: add picture of assembled dual USB cable here.
We have successfully tested the following USB battery packs with the Beta so far:
https://www.amazon.de/Anker-PowerCore-20100mAh-Externer-Akku/dp/B00VJT3IUA/
When evaluation a new battery/power supply we recommend using two USB power meters between camera and battery: https://www.amazon.com/s/ref=nb_sb_noss?url=search-alias%3Delectronics&field-keywords=usb+current+meter
[edit]
Active Battery Mount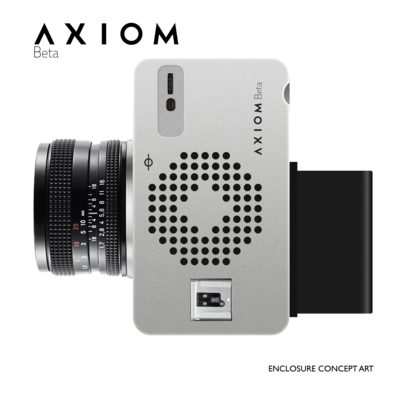 Battery mount for NP-F970/F750/F550 batteries to power the AXIOM Beta. Includes power usage and capacity monitoring to estimate remaining charge and time remaining.
More Thoughts on Power.
[edit]
InfoLithium Protocol
Proprietary protocol from Sony that exchanges metadata between batteries and devices. Expected data inside the protocol includes: charge cycles, battery ID, remaining total capacity, remaining current capacity, etc. Only official Sony batteries incorporate this protocol, cheap replacement parts don't and some Pro Sony cameras refuse operation with batteries without InfoLithium communication. Decrypting this protocol could give us more insight into the battery but is not essential as we can measure the discharge curve and estimate remaining capacity rather accurately that way.
[edit]
Hacking References
http://randybuildsthings.wordpress.com/2013/02/25/sony-infolithium-m-teardown/
http://www.dpreview.com/forums/post/4296759
[edit]
AXIOM Remote
Still in concepting phase of development.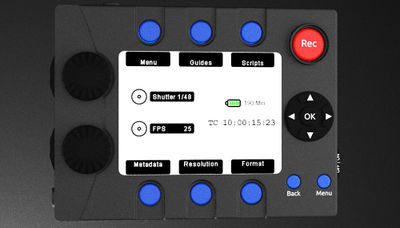 https://apertus.org/axiom-remote
[edit]
Lens Mounts
AXIOM Beta is outfitted with an E Mount currently. We provide adapters for Canon EF & Nikon F (Commlite) mounts. Further adapters like PL, etc are widely available.
We have not had a chance to test any speedbooster directly on the camera but are keen on community reports here.
Mount
Nikon F
Canon EF
Micro Four Thirds
Type
Bayonet
Compatible Lenses
Nikkor FX
Nikkor DX
EF
EF-S (optionally)
Image Circle Size
Full Frame
ø 43.3 mm
DX
ø 28.4 mm
Full Frame
ø 43.3 mm
Canon APS-C
ø 27.3 mm
"Half Frame"
ø 21.6 mm
Throat
44 mm
54 mm
~38 mm
Flange focal distance
46.5 mm
44 mm
19.25 mm
Axiom Beta
Sensor Compatibility
16mm
Four Thirds
Super35
16mm
Four Thirds
More Details: Lens Mounts
[edit]
Infra Red / Ultra Violet Cut Off Filter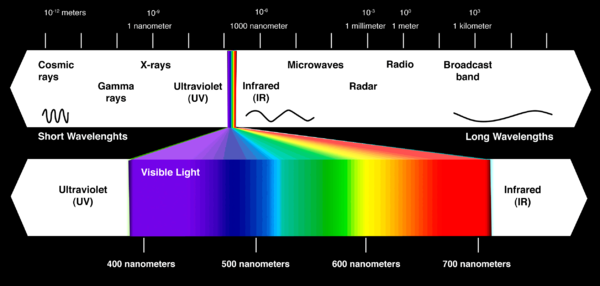 Image sensors are typically sensitive to a wider spectrum than the human eye. So we use an Infrared (IR) / Ultraviolet (UV) cut off filter that acts as an optical bandpass. These filters work with a reflective coating that cuts below 390nm and above 750nm.
We recommend this filter brand: https://www.amazon.de/Haida-Digital-Slim-Filter-inkl/dp/B00CGGZ786
With the AXIOM Beta developer kits we use this filter "externally" - screwed to the lens thread. With very wide angle lenses (< 16mm focal length) this can lead to visible color shift vignetting.
Ultimately the goal is to incorporate a UV/IR cut off filter into the camera body on top of the image sensor.
Proposal: Buy 100x100mm filter from http://www.uqgoptics.com/catalogue/Filters/IR_CUT_OFF_FILTERS.aspx?subCatOrCatName=ir_cut_off_filters and cut into 3x3 pieces
[edit]
Optical Low-pass Filter (OLPF)
An optical low-pass filter is used to reduce/eliminate moire and aliasing artifacts which would otherwise be visible when filming some types of subject matter (detailed repeating patterns like meshes, grills, brick walls). Although post-production workarounds exist, they aren't usually as effective and remnants of moire will often remain.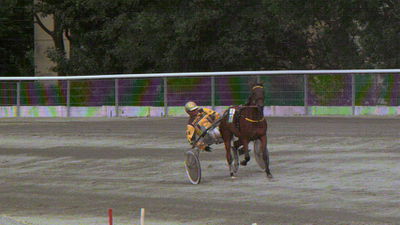 For a filter to be effective and also not excessively blur the image, it needs to be designed for a specific sensor pixel size. The Cmosis CMV12000 and CMV2000 have the same pixel size (5.5µm), but the Kodak On-Semi KAC12040 is 4.7µm. A different filter might be needed for the latter.
Filters of different thickness and refractive indexes placed between the back of the lens and sensor will shift the back focus to some degree. Any combination of OLPF and IR/UV filters needs to be carefully designed to avoid this. A buyer might request a camera without an OLPF, but still with an IR/UV filter. How can this be accommodated? Some filter manufacturers sell combined OLPF/UV glass of varying thickness which might be a solution.
Design considerations:
IR/UV filters might also introduce a color bias which would need to be corrected as part of the camera calibration process
Should the filter be removable by the end-user?
Should it be hot-swappable on location (no special tools required)?
Should it be fitted 'as standard' or as an optional extra?
Typical cost for a Super35/APS-C sized filter seems to be around $200/€187 - Red sell one for their cameras at this price.
A Twitter poll was run to get user feedback. Question; "How important is an Optical Low-Pass Filter (OLPF/AA-filter) for you?". Results on 2017-04-06;
42% 'not important'
32% 'quite important'
26% 'essential'
So a combined 58% of users opted for either quite important or essential.
List of possible manufacturers:
http://www.optics-online.com/lpf.asp
http://www.made-in-china.com/manufacturers/olpf.html
http://www.made-in-china.com/showroom/eddiet1716/product-detaileqjxuOYMYJfA/China-Optical-Low-Pass-Filter-OLPF-.html
http://www.made-in-china.com/showroom/refet88/product-detailRMtJbgsUhDky/China-OLPF-Crystal-Filter.html
http://www.made-in-china.com/showroom/jiujonshane/product-detailBMKmSRtdEbcU/China-Olpf-Optical-Low-Pass-Filter-.html

[edit]
4K RAW PC recording option
This has been renamed to "AXIOM Bridge" and is currently still in the concept phase of development.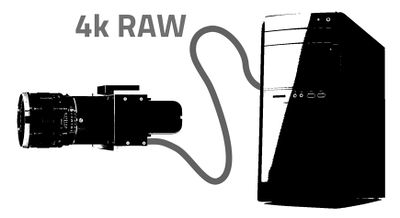 [edit]
Enclosure Design
Notes & Discussion Topics:
Switchable ND Filters not planned currently
[edit]
PCB Stack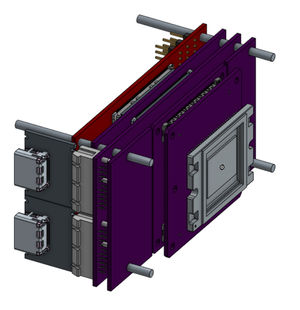 PCB Stack (work in progress): https://cad.onshape.com/documents/58833d76000df10fe2249f8a/w/1e208f70f250bcc59aa74d03/e/51df8678a0ad64b69c121f5f
[edit]
Skeleton
Skeleton and Skeleton Footplate: https://github.com/apertus-open-source-cinema/beta-hardware/tree/master/Enclosure/Skeleton_E-mount
Onshape PCB Stack and Skeleton Assembly: https://cad.onshape.com/documents/58bd498285673a104722aacd/w/466b8105bf6807b3f4f50b6c/e/b33cc7b3cc3cc5eebd5c2ae6
[edit]
Simple Enclosure
The Simple Enclosure is meant to wrap a "skin" around the camera electronics and skeleton CNC milled metal parts. The Simple Enclosure is designed in a way that it can be produced with any consumer 3d printer.
https://cad.onshape.com/documents/15b58e5500d917fd327e95ef/w/7ed95a699b599a370a7f55ff/e/f97fa229ef96cd1e6d0c4a40
[edit]
Simple Transparent Enclosure
Another kind of simple enclosure. The transparency is useful to showcase the camera and explain the different compenents inside, and to understand quickly what is going on by looking at the different status LEDs. The design is made so it can be laser cut with a 3mm thick acrylic glas (choose your color !)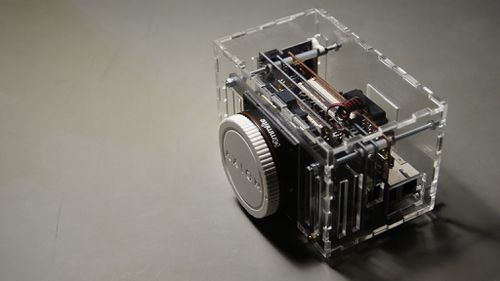 Simple transparent enclosure for the AXIOM Beta, version 0.2.
Key : Black => to be cut ; Red => to be engraved ; Green => comments (not to be cut or engraved)
Open and edit with Inkscape.
Improvement possible : make the case slightly bigger (few mm wider for the front and back side), so the HDMI cable can fit nicely in the enclosure (and you don't need to shave some plastic off the cable).
[edit]
Full Enclosure
CNC milled from aluminum.
We want to use thread inserts instead of cutting threads into the aluminum ( -> stronger, less production steps, easier to replace thread insert when damaged later):

Ensat from Kerb Konus seems very suitable: http://www.kerbkonus.de/proddb/assistent.php?lang=en&a=presel_ds&ds=30
UNC 1/4-20 ~ 1€ / pcs (excl. taxes)
UNC 3/8-16 ~ 2.50€ / pcs (excl. taxes)
M3x6 ~ 0.44€ / pcs (excl. taxes)
M4x8 ~ 0.55€ / pcs (excl. taxes)
M5x10 ~ 0.60€ / pcs (excl. taxes)
[edit]
Beta Naming Scheme
Versions of the AXIOM Beta will be named AXIOM Beta plus the according roman number.
eg. AXIOM Beta I - Developer Edition