For enclosures see AXIOM Beta/Enclosures
1

AXIOM Beta Developer Kit
Intended for developers and early adopters - first generation that is currently being shipped - small production batch size of around 20 - 30 cameras.
Limitations:
no enclosure yet - skeleton only (3D View)
CMV12000 image sensor only
passive sensor cooling only (works fine)
passive E-Mount only (passive Canon / Nikon adapter available)
screw-on UV/IR cut off filter instead of camera internal one
Interface Board limits image sensors throughput to 150FPS@4K (faster Interface Board replacement will be available later)
Dual 5V 3+A AC power supply only (included)
1x HDMI 1080p60 output module and PMOD debug module are the only plugin modules available currently (AXIOM Beta has two slots)
Solder-on area on AXIOM Main Board not populated with gyroscopes/magnetometer/accelerator yet (will be available later on)
Power Board requires manual reconfiguration (trimmers) when switching to a different image sensor module (potentially in the future)
no power-on switch on camera yet (camera turns on when power is connected)
cameras need to be user calibrated -> Factory Calibration
Software/Firmware is still work in progress
2

AXIOM Beta Topics
2.1

Power Supply
The Beta requires two 5V inputs (one for the Microzed, one for the rest of the hardware). Each 5V supply should be able to provide at least 2-3A. The total power consumption in normal operation was measured to be around 10W. During boot up there are spikes of higher power consumption.
2.1.1

AC Power supply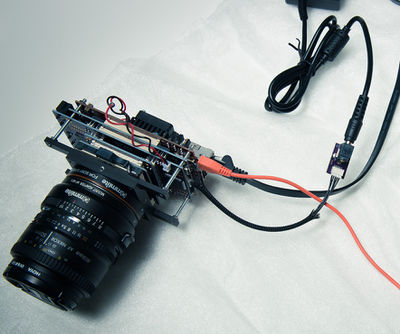 Each AXIOM Beta ships with an external AC power supply that provides 5V and 6-8A.
2.2

AXIOM Remote
Still in concepting phase of development.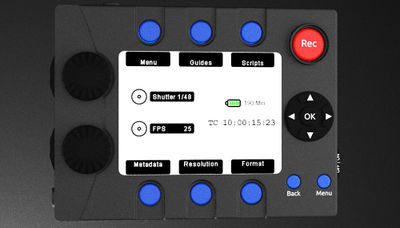 https://apertus.org/axiom-remote
2.3

4K RAW PC recording option
This has been renamed to "AXIOM Bridge" and is currently still in the concept phase of development.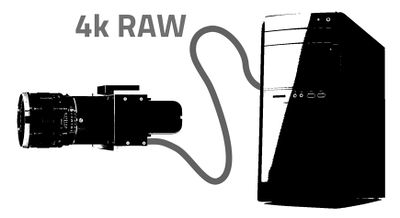 2.4

AXIOM Beta Naming Scheme
The following names have been chosen by the team/community:
AXIOM Beta Developer Kit (DK)
A skeleton frame provides support for the electronics, lens mount (e-mount) and tripod footplate. No surrounding enclosure allows for easy access to the AXIOM Beta's core components and their connectors.
AXIOM Beta Compact (CP)
This enclosure option provides a solid but lightweight aluminum layer around the camera's electronics and incorporates several mount points and future expansion slots. Great for rig integration or general in-the-field protection.
AXIOM Beta Extended (EX)
With the Extended enclosure the AXIOM Beta resembles the golden age of film cameras. With ergonomics in mind and space for an integrated recording device (AXIOM Recorder), this enclosure is ideal for shoulder mounted operation.