m

m

Line 1:
Line 1:
 
 
−

[[File:Lase Cut Clear 03 sm b.jpg| thumb | 350px | Photo credit: Maxime Fuhrer, [https://wiki.apertus.org/index.php/Regional_AXIOM_Communities AXIOM Belgique].]]

 
 

===Simple Enclosure===

 

===Simple Enclosure===

 

The Simple Enclosure is meant to wrap a "skin" around the camera electronics and skeleton CNC milled metal parts. The Simple Enclosure is designed in a way that it can be produced with any consumer 3d printer.

 

The Simple Enclosure is meant to wrap a "skin" around the camera electronics and skeleton CNC milled metal parts. The Simple Enclosure is designed in a way that it can be produced with any consumer 3d printer.

Line 6:
Line 5:
 

https://cad.onshape.com/documents/15b58e5500d917fd327e95ef/w/7ed95a699b599a370a7f55ff/e/f97fa229ef96cd1e6d0c4a40

 

https://cad.onshape.com/documents/15b58e5500d917fd327e95ef/w/7ed95a699b599a370a7f55ff/e/f97fa229ef96cd1e6d0c4a40

 
 
 
+
 
+
 

===Simple Transparent Enclosure===

 

===Simple Transparent Enclosure===

 

Another kind of simple enclosure. The transparency is useful to showcase the camera and explain the different compenents inside, and to understand quickly what is going on by looking at the different status LEDs. The design is made so it can be laser cut with a 3mm thick acrylic glas (choose your color !)

 

Another kind of simple enclosure. The transparency is useful to showcase the camera and explain the different compenents inside, and to understand quickly what is going on by looking at the different status LEDs. The design is made so it can be laser cut with a 3mm thick acrylic glas (choose your color !)

−

 
−

[[File:Laser Cut Clear 03.jpg|500px]]

 
 
 
 

'''Simple transparent enclosure for the AXIOM Beta, version 0.2.'''  

 

'''Simple transparent enclosure for the AXIOM Beta, version 0.2.'''  
---
Revision as of 20:08, 4 November 2017
1

Simple Enclosure
The Simple Enclosure is meant to wrap a "skin" around the camera electronics and skeleton CNC milled metal parts. The Simple Enclosure is designed in a way that it can be produced with any consumer 3d printer.
https://cad.onshape.com/documents/15b58e5500d917fd327e95ef/w/7ed95a699b599a370a7f55ff/e/f97fa229ef96cd1e6d0c4a40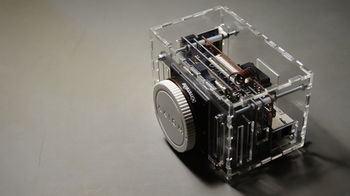 2

Simple Transparent Enclosure
Another kind of simple enclosure. The transparency is useful to showcase the camera and explain the different compenents inside, and to understand quickly what is going on by looking at the different status LEDs. The design is made so it can be laser cut with a 3mm thick acrylic glas (choose your color !)
Simple transparent enclosure for the AXIOM Beta, version 0.2.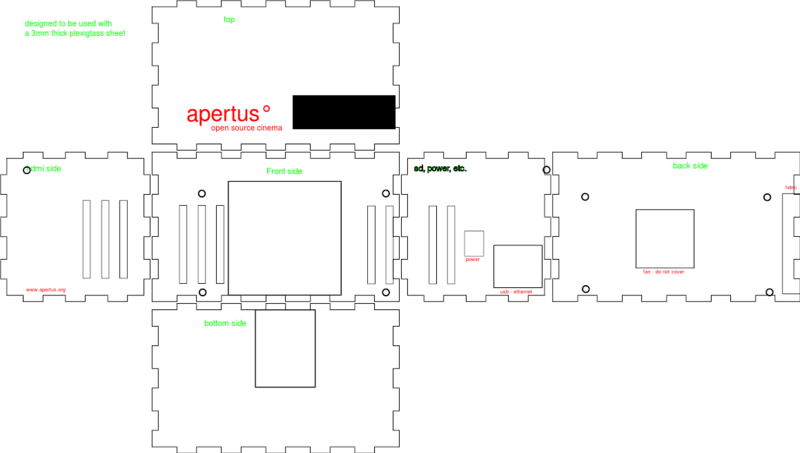 Key : Black => to be cut ; Red => to be engraved ; Green => comments (not to be cut or engraved)
Open and edit with Inkscape.
Improvement possible : make the case slightly bigger (few mm wider for the front and back side), so the HDMI cable can fit nicely in the enclosure (and you don't need to shave some plastic off the cable).
3

Full Enclosure
CNC milled from aluminum.
We want to use thread inserts instead of cutting threads into the aluminum ( -> stronger, less production steps, easier to replace thread insert when damaged later):

Ensat from Kerb Konus seems very suitable: http://www.kerbkonus.de/proddb/assistent.php?lang=en&a=presel_ds&ds=30
UNC 1/4-20 ~ 1€ / pcs (excl. taxes)
UNC 3/8-16 ~ 2.50€ / pcs (excl. taxes)
M3x6 ~ 0.44€ / pcs (excl. taxes)
M4x8 ~ 0.55€ / pcs (excl. taxes)
M5x10 ~ 0.60€ / pcs (excl. taxes)
4

Enclosure Design
Notes & Discussion Topics:
Switchable ND Filters not planned currently