1

Simple Enclosure
The Simple Enclosure is meant to wrap a "skin" around the camera's electronics and CNC milled metal skeleton parts. The Simple Enclosure is designed in a way that can be produced with any consumer 3d printer. The design is not finished yet, please help finish and test it.
https://cad.onshape.com/documents/15b58e5500d917fd327e95ef/w/7ed95a699b599a370a7f55ff/e/f97fa229ef96cd1e6d0c4a40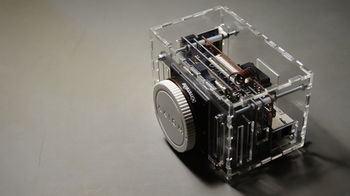 ---
2

Transparent Enclosure
A transparent enclosure is useful for showcasing the camera's printed circuit boards and for allowing to understand quickly what may or may not be going on simply by looking at the camera's status LEDs. The design is made so it can be laser cut with a 3mm thick acrylic glass. Acrylic glass comes is many variations and colors and could also be used to print logos or text labels on the exterior.

Simple transparent enclosure for the AXIOM Beta, version 0.2.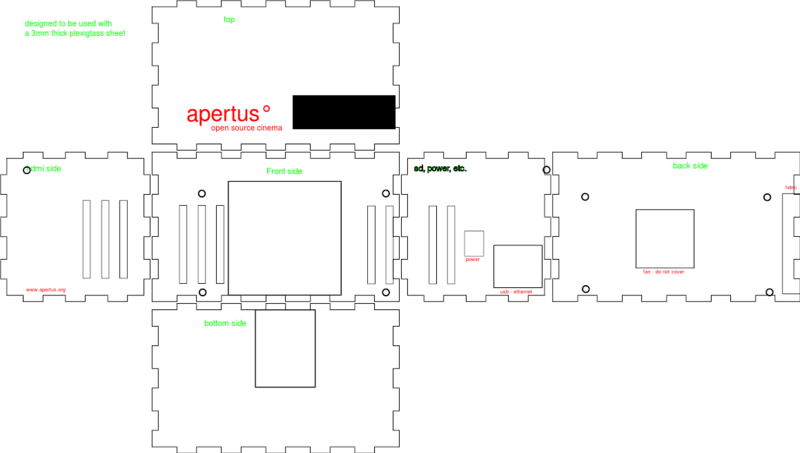 Key : Black => to be cut ; Red => to be engraved ; Green => comments (not to be cut or engraved)
Open and edit the above image with Inkscape or similar.
Note: There may be scope for improvement by making the case slightly bigger (few mm wider for the front and back side), so that the HDMI cable can fit nicely in the enclosure (and you don't need to shave some plastic off the cable). If you make any alterations please update this page with modifications accordingly.
2.1

Distance between Image Sensor and first PCB
Note that there are two versions of the Image Sensor Frontend with different image sensor to PCB distances. The transparent enclosure has been designed for the ZIF (CPU Socket) variant of the Sensor Frontend.

2.2

Heat Dissipation
Tests have shown that this transparent enclosure makes the Zynq on the microzed prone to overheating (due to the lack of air circulation) which creates general erratic camera behavior. Other parts in the camera can get too hot as well of course. A newer design with a larger fan on top of the enclosure has shown significant improvements to keeping the Zynq on a constant temperature.
"Case" is the above laser cut transparent enclosure
"Open" refers to the developer kit without enclosure
"Chimney" an intermediate design improvement attempt
"2xFan" a further improved design with a smaller fan on the microzed and a big fan at the top of the PCB stack
"final" the final improved design with a big fan at the top of the PCB stack but no fan on the microzed heatsink (see below)

3

Transparent/3D Printed Enclosure
This is the improved version based on the transparent enclosure (above) and designates some of the enclosure sides to be 3D printed instead of laser cut. It adds a StarTech FAN6X1TX3 60x60x10mm at the top of the enclosure which solve the above mentioned heat dissipation problems.
Instructions:
laser cut acrylic sheets as defined in axiombetatransparentplot.top60x60fan.svg (all plates, except the "top" and the back side)
3D print the 2 STL files
assemble them all together
strap a StarTech FAN6X1TX3 60x60x10mm cooler fan to the top plate and connect it to the FAN connector on the MicroZed
each two opposite plates are to be held together by one or more Φ 3 mm threaded rods together with the corresponding nuts (locknuts can be considered for this application - https://en.wikipedia.org/wiki/Locknut - but have not been tested yet) mounted on the exterior on each side. For the back and the front plate the rods are the same four that hold together the PCBs and the skeleton mount, albeit longer ones will be required (min 7.7 cm). For the left and right plate there the current implementation requires only one Φ 3 mm threaded rod of aprox 15 mm in length. In the current version the holes for the threaded rod in the top and bottom plate require adjustments & are misaligned, but it will be fixed in the next version (however, tests show that the enclosure holds together just fine with just the left-right & front-back rods). No shock/vibration tests have been run on it, so consider this unexplored space.
Download: File:Transparent-3d-print-enclosure.zip
4

AXIOM Beta Compact Enclosure
To be CNC milled from aluminum, ceramic coated or anodized
Design still in progress - not finished yet.
All dimensions are in millimeter.
Labels/logos will be pad printed.
Onshape 3D CAD: https://cad.onshape.com/documents/73226709ded01ea10250d8e1/w/f6bfcb79ea86c0939ee114ee/e/e7581285bfd3e966f937c5dd
Open Todos:
Draw holes for Emount bayonet ring screws
Where to place image sensor plane knob and label
4.1

E mount FFD verification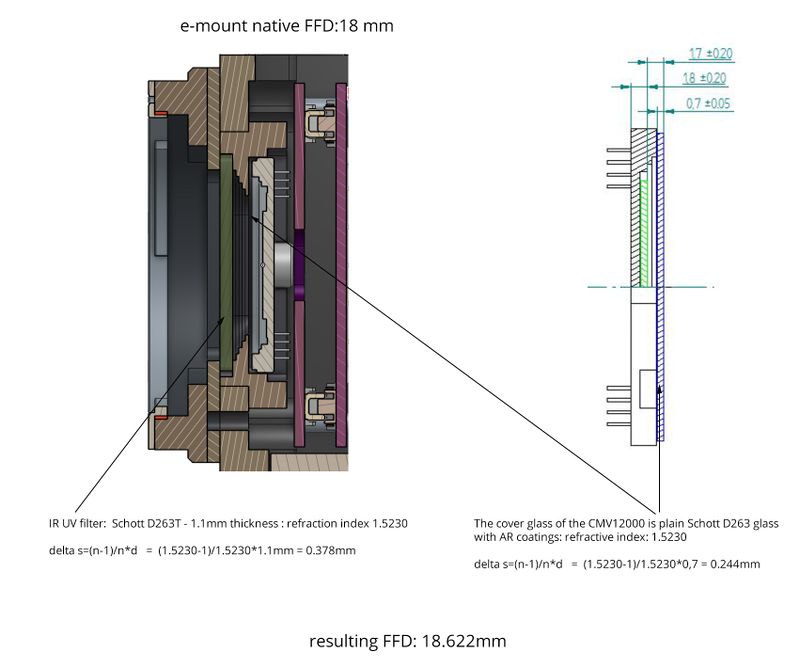 ---
4.2

IR/UV Cut-off Filter
The visible spectrum that humans can see ranges from 380 - 750 nm.
Currently we are shipping Dev Kits with Haida Pro II MC Digital Slim UV / IR 390nm / 750nm filters.
Hoya filters offer a narrower band of 390 nm - 700 nm - will need to be tested how it impacts less red tones.
http://www.optics-online.com/IRC.asp?PN=IRC30-50x50 50x50mm for 39$ for sample (volume pricing likely lower and on request), 1.5mm thickness
UQG Optics offer 40x40x1.1mm UV/IR Cut off filters with 400 - 690nm bandpass
---
4.3

Thread Inserts
We want to use thread inserts instead of cutting threads into the aluminum ( -> stronger, less production steps, easier to replace thread insert when damaged later):

Ensat from Kerb Konus seems very suitable: http://www.kerbkonus.de/proddb/assistent.php?lang=en&a=presel_ds&ds=30
UNC 1/4-20 Ensat SB: http://kerbkonus.de/proddb/tecsheet.php?itemno=307000525160&status=ensat-sb&ds=20&gewinde=525&lang=en&pgc=3070
UNC 3/8-16 Ensat SB: http://kerbkonus.de/proddb/tecsheet.php?itemno=307000637100&status=ensat-sb&ds=20&gewinde=637&lang=en&pgc=3070

UNC 1/4-20 ~ 1€ / pcs (excl. taxes)
UNC 3/8-16 ~ 2.50€ / pcs (excl. taxes)
M3x6 ~ 0.44€ / pcs (excl. taxes)
M4x8 ~ 0.55€ / pcs (excl. taxes)
M5x10 ~ 0.60€ / pcs (excl. taxes)
---
5

Enclosures and Temperatures
In a closed case it's all about the air flow, so you need to carefully consider where the air enters and leaves the case. Ventilating out through holes above the fan is recommended. It's best to make a sort of wind-tunnel effect if you like. If you simply put a few 'holes' at the back and have a gap between fan and case, the hot air will mostly circulate inside the case, which is not what you want.
It's also recommended to measure various temperatures on the camera and monitor them during use with and without case.
./zynq_info.sh 

... will give you the zynq temp,
cat /sys/class/hwmon/hwmon0/temp[0-9]_input 

... will give you power board temp
cmv_reg 127 

... will give the temperature of the sensor.

The zynq will work relatively fine up to 90°C, although that is a little high for normal use. For the sensor you want to keep temperature quite low - typically not more than a few degrees above room temperature, so adding holes or slits close to the sensor is a good idea.
Always keep in-take holes/slits at the bottom or at least bottom side, because it aids natural convection. As a rule of the thumb, for intake you want to have about 1.5-2x the area you have for the exhaust (in total, which is the inside area of the fan). If you have too little intake, the fan gets slowed down, if you have to much, cooling will be ineffective.
---
6

General Enclosure Design Topics
From Labs:
Axiom Beta new enclosure and labeling
---
7

Legacy
Switchable ND Filters not planned currently