AXIOM Beta/Enclosures
From apertus wiki
1

Simple Enclosure
The Simple Enclosure is meant to wrap a "skin" around the camera's electronics and CNC milled metal skeleton parts. The Simple Enclosure is designed in a way that can be produced with any consumer 3d printer.
https://cad.onshape.com/documents/15b58e5500d917fd327e95ef/w/7ed95a699b599a370a7f55ff/e/f97fa229ef96cd1e6d0c4a40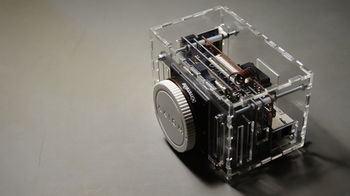 2

Transparent Enclosure
A Transparent enclosure is useful for showcasing the camera's printed circuit boards and to understand quickly what may or may not be going on simply by looking at the camera's status LEDs. The design is made so it can be laser cut with a 3mm thick acrylic glass. Acrylic glass comes is many variations and colours and could also be used to print designs or text on the exterior.

Simple transparent enclosure for the AXIOM Beta, version 0.2.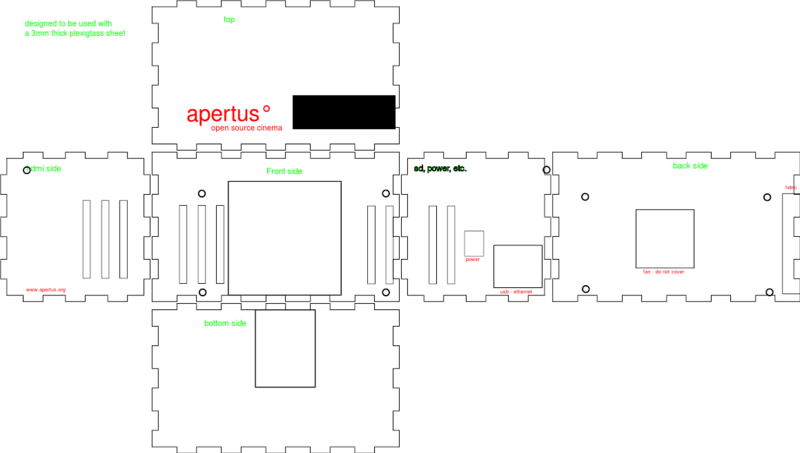 Key : Black => to be cut ; Red => to be engraved ; Green => comments (not to be cut or engraved)
Open and edit the above image with Inkscape or similar.
Note: There may be scope for improvement by making the case slightly bigger (few mm wider for the front and back side), so that the HDMI cable can fit nicely in the enclosure (and you don't need to shave some plastic off the cable). If you make any alterations please update this page with modifications accordingly.
3

Full Enclosure
CNC milled from aluminum.
We want to use thread inserts instead of cutting threads into the aluminum ( -> stronger, less production steps, easier to replace thread insert when damaged later):

Ensat from Kerb Konus seems very suitable: http://www.kerbkonus.de/proddb/assistent.php?lang=en&a=presel_ds&ds=30
UNC 1/4-20 ~ 1€ / pcs (excl. taxes)
UNC 3/8-16 ~ 2.50€ / pcs (excl. taxes)
M3x6 ~ 0.44€ / pcs (excl. taxes)
M4x8 ~ 0.55€ / pcs (excl. taxes)
M5x10 ~ 0.60€ / pcs (excl. taxes)
4

Enclosure Design
Notes & Discussion Topics:
Switchable ND Filters not planned currently
From Labs:
Axiom Beta new enclosure and labeling