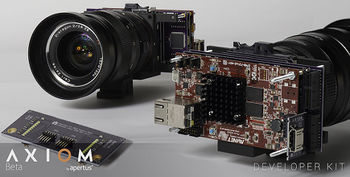 Links to sample files and reading on the project's background are listed at Useful Links
There are three available options to consider when purchasing AXIOM Beta.
[edit]
AXIOM Beta I: Developer Kit
This version of the camera is suitable for anyone who'd like to work on development, reconfigure its software and or core components, or build their own enclosures etc...
Developer Kits don't ship with enclosures and provide easy access to the camera's printed circuit boards - With this in mind all associated design files, schematics, board layouts, BOMs, CAD models, software source code repositories, etc. are made freely available.
During the AXIOM Beta crowd-funding campaign, as a perk, and to show our gratitude to those who contributed towards the project's research and development, we elected to give backers the opportunity to purchase either an AXIOM Beta I developer kit or a more mature, end-use version AXIOM Beta II at cost. This offer is now over.
| | |
| --- | --- |
| AXIOM Beta Developer Kit for Crowdfunding Backer/Voucher Holder | € 2,100.00 (excl. VAT + Shipping) |
| AXIOM Beta Developer Kit | € 3,990.00 (excl. VAT + Shipping) |
Purchase a Developer Kit in the web-shop here
Note: We presently assemble developer kits inside a five week period and aim to deliver the camera within six weeks.
[edit]
AXIOM Beta II: Production Ready
Under development
The more user-friendly AXIOM Beta II ships with a CNC-milled aluminium enclosure and is ideally suited to photo and video production environments.
Both versions of the camera boast superb image quality, high frame rates, rich colour science properties, a small, light, form factor, and enable flexible integration and total customisation...
| | |
| --- | --- |
| AXIOM Beta II for Crowdfunding Backer/Voucher Holder | € 2,200.00 - 2,300.00 (excl. VAT + Shipping) |
| AXIOM Beta II | € 5,990.00 (excl. VAT + Shipping) |
Get notified when Beta II becomes available by registering for pre-order notification here
[edit]
Build the camera yourself
If you're not afraid to get your hands dirty and want to build an AXIOM Beta Developer Kit yourself then you can download all the design files, BOMs, software source code, etc. and source all the parts yourself. You'll need SMD reflow and THT soldering equipment for the electronics as well as some experience with SMD soldering and a decent amount of time, patience and commitment. Owning a CNC mill and 3D printer for the mechanical parts should make the assembly less expensive.
You will need to source the following:
Item
Price (estimate)
Beta Image Sensor Board PCB (OSHPark)
€ 45.00
Beta Image Sensor Board Components
€ 42.00
Beta Interface Board PCB (OSHPark)
€ 45.00
Beta Interface Board Components
€ 12.00
Image Sensor Cmosis CMV12000

http://www.digikey.com/products/en?keywords=CMV12000-2E5C1PA

€ 2000.00
Andon Image Sensor Socket
€ 100.00
Beta Main Board PCB (OSHPark)
€ 90.00
Beta Main Board Components
€ 42.00
Beta Power Board PCB (OSHPark)
€ 86.00
Beta Power Board Components
€ 81.00
AVNet Microzed
€ 200.00
Beta Plugin Module PCB (OSHPark)
€ 12.00
Beta HDMI Plugin Module Components
€ 5.00
Skeleton (CNC milled Aluminum Part)

(quoted by maketime.io for single quantity)

€ 639.50
Misc Optical Parts, DC Supply, Cables, Heatsink, Fan, Nuts,

Bolts, Spacers, 3D printed parts

€ 150.00
Total
€ 3,549.50
Note: We do a lot of hardware testing for each of the camera's individual boards and with the whole boardstack once assembled. If you choose to build the camera yourself then these procedures will require some specialised appliances and a good deal of care. Putting a very expensive image sensor into untested hardware to just see if it works (or starts smoking) is not recommended.
Resources permitting we'd be happy to support you on your journey.

Disclaimer: In the event of use error (mishap attributed to failure on the part of a human operator) or force majeure (mishap that does not involve a human being in the chain of events preceding the event) then apertus° assumes no responsibility or liability.
[edit]
Alternative Payment Options
Company Details:
Apertus - Open Source Cinema
Maalderijstraat 2
2000 Antwerp
Belgium/Europe
VAT Number: BE0508.784.301

Wire Transfer:
SEPA payments inside Europe are free of charge and therefore the preferred payment method.
Account Name: PICOUX PROD.BVBA/APERTUS
IBAN: BE06 0016 8787 9822
BIC: GEBABEBB
Bank: BNP Paribas Fortis Bank
Please put your email address in the payment reference so we can easily link the transfer to your account/communication.

Transferwise:
We recommend sending money from outside the EU with Transferwise as the fees are lower than Paypal or bank wire transfers.
If you're unsure about anything please email one of us on team@apertus.org