Beta CMV12K ZIF Sensor Board
From apertus wiki
Note: For the non-development THT version of this sensor board see Beta CMV12K THT Sensor Board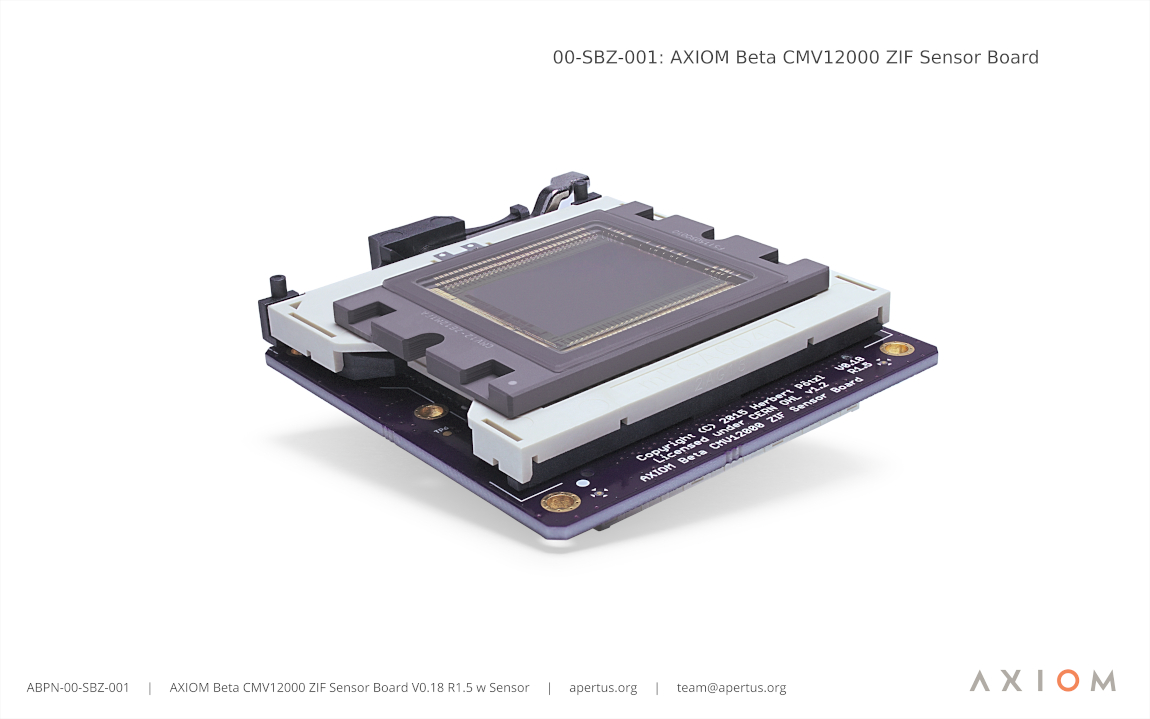 1

About
AXIOM Beta Developer Kits can be equipped with a CMV12000 ZIF (zero insertion force) socket sensor board. This is useful for developers as it allows for frequent, easy sensor removal at the turn of a lever (zero force). The CMV12000 sensor itself is a high resolution global shutter CMOS image sensor.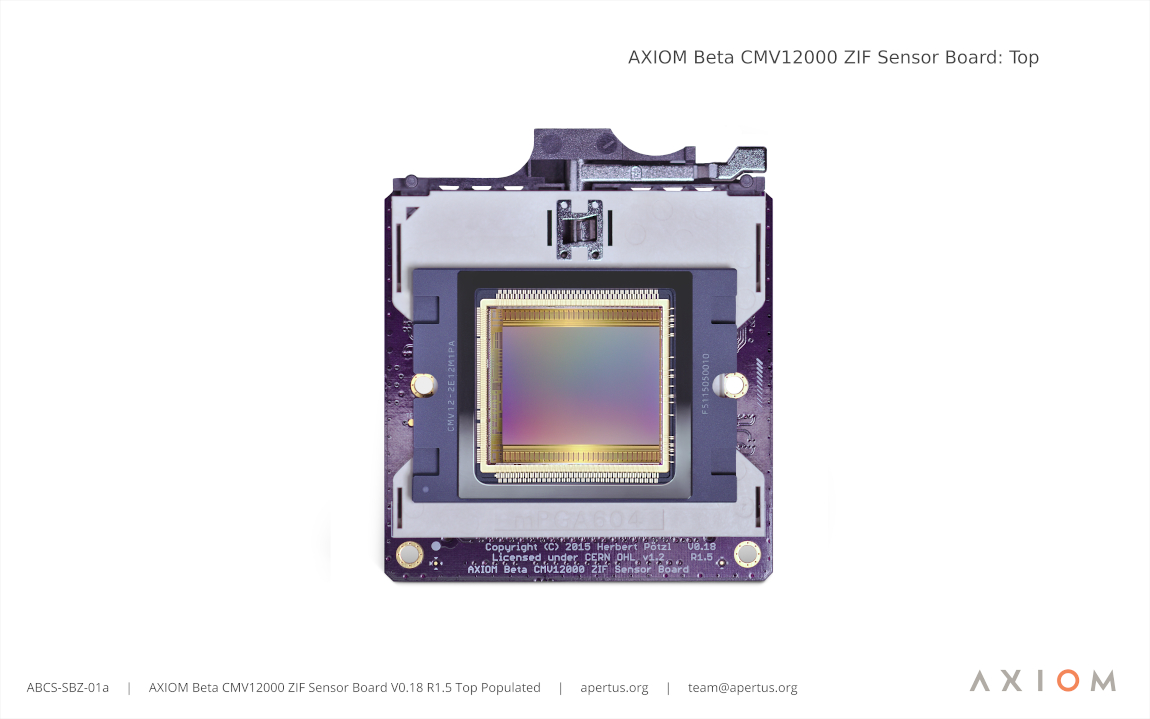 2

Image Sensor Features
CMOS
global shutter
APS-C / Super35 diameter
12 Megapixels (4096 x 3072) resolution
320 frames per second (8bit), higher values at reduced resolution, lower values at higher bitdepth
8, 10 or 12bit output
10 stops (native), 15 stops with PLR HDR dynamic range
5.5µm pixel size
3

PCB Features
Socket 604 BGA as ZIF image sensor socket for easy image sensor removal
PCB hole behind/below image sensor for optional sensor cooling
32 of 64 LVDS pairs connected
3.1

Image Sensor ZIF Socket
Uses Socket 604 BGA see https://en.wikipedia.org/wiki/Socket_604
Datasheet: File:FOCCONN-PZ60403-013-T.PDF
Please note that the correct position for the CMV12000 to be inserted into the ZIF socket is the left most and top most position when looking straight at the ZIF socket (lever at the top). Any other position will not work and could potentially damage image sensor and camera hardware.
4

Power
The CMV12000 has a 4W continuous peak power consumption. There might be short higher peaks when training LVDS channels to initialize the sensor communication. For still images you can operate the sensor with largely reduced IO (number of LVDS lanes) which in turn should also reduce power consumption.

Note: The AXIOM Beta Compact hosts the Beta CMV12K THT Sensor Board. THT (Through-hole tech) is suited to applications where the sensor-front-end won't be removed regularly.
5

Revisions
Current:
Sources: https://apertus-open-source-cinema.github.io/pcbs/index.html#/boards/AXIOM%20Beta%20Sensor%20CMV12000%20Zif/0.18%20r1.5/default/Beta

Archive:
---