Line 8:
Line 8:
 
 
 
 
−

* one HDMI output connector

+

* HDMI output connector

−

* video signal directly connected to the main camera FPGA (Xilinx Zynq on Microzed™)

+

* signal directly (Xilinx Zynq on Microzed™)

−

* up to Full HD (1080p) resolution

+

* to Full HD (1080p) resolution

−

* up to 60 FPS

+

* to 60 FPS

−

* various color modes possible (RGB, YUV, YCrCb, etc.)

+

* modes possible (RGB, YCrCb, etc.)

−

* no chroma subsampling (4:4:4)

+

* chroma subsampling

−

* total available bandwidth: 1250Mb/s

+
−

* custom EDID and metadata possible

+

* available bandwidth: 1250Mb/s

 
+

* EDID and metadata possible

 
 
 
 
---
Revision as of 13:24, 20 January 2020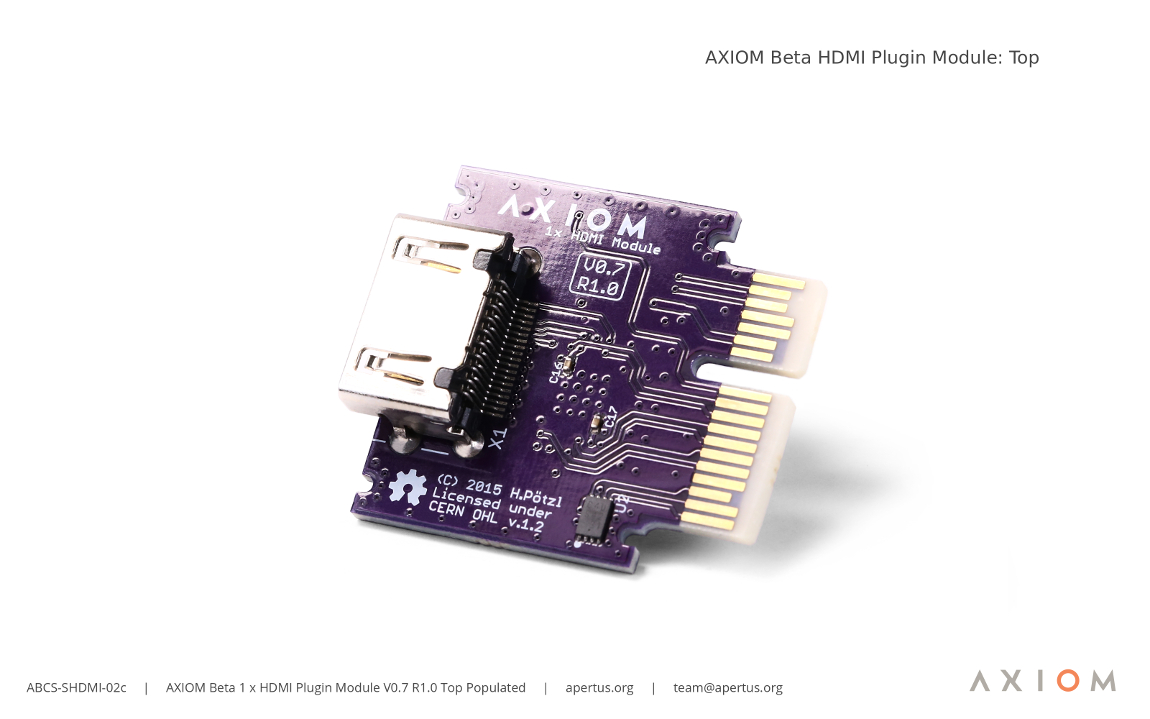 This plugin module provides one HDMI video output connection that delivers a live video feed from the AXIOM Beta for monitoring or recording. Technically it is able to supply a FullHD video at up to 60FPS without chroma subsampling (up to 1080p60 4:4:4 output) via 4 LVDS channels directly from the FPGA/Zynq on the Microzed (no intermediate HDMI chip is used). AXIOM Beta can accommodate up to two of these plugin modules and supply each with independent video streams.
One HDMI output connector.
Video signal directly generated by Zynq fabric (Xilinx Zynq on Microzed™).
Up to Full HD (1080p) resolution.
Up to 60 FPS.
Various colour modes possible (RGB, YCrCb, etc.).
No limitation on chroma subsampling.
3x Data channels and 1x clock channel.
Total available bandwidth: 1250Mb/s.
Custom EDID and metadata possible.
Dimensions in Onshape - Link
1

Current Revision
Axiom Beta Plugin Module 1x HDMI v0.8
2

Revision Archive
Axiom Beta Plugin Module 1x HDMI v0.6
Axiom Beta Plugin Module 1x HDMI v0.5
Axiom Beta Plugin Module 1x HDMI v0.4
Axiom Beta Plugin Module 1x HDMI v0.2
---