Lens Mounts
From apertus wiki
For components related to AXIOM Beta see - Parts:Enclosures and Associated Mechanical Parts.
1

Overview of Lensmounts
http://en.wikipedia.org/wiki/Lens_mount
This page contains information about the different lens mounts and the protocols used to communicate with the attached lenses.
1.1

E Mount
Seems to be a good choice because there are adapters available for almost every camera/lens type for reasonable cost. Even active mounts for Canon EF, etc.
http://en.wikipedia.org/wiki/Sony_E-mount
Specs:
Outer diameter 46.1mm
Flange focal distance is very short: 18mm
Frame size APS-C, 35mm
Pros:
Short flange focal distance allows mechanical adapters to cover pretty much any lens mount out there
widely adopted
Cons:
not an open standard
licensing necessary for lens communication protocol -> reverse engineering required
using stack adapters reduces the accuracy and ruggedness of the whole system
LexOptical E-Mount on Github - A work in progress reverse engineering of E-Mount communication protocol.
Sony opens E-mount specifications. Seems we are on the safe side with using an E-mount adapter...
1.1.1

E-Mount Bayonet Scans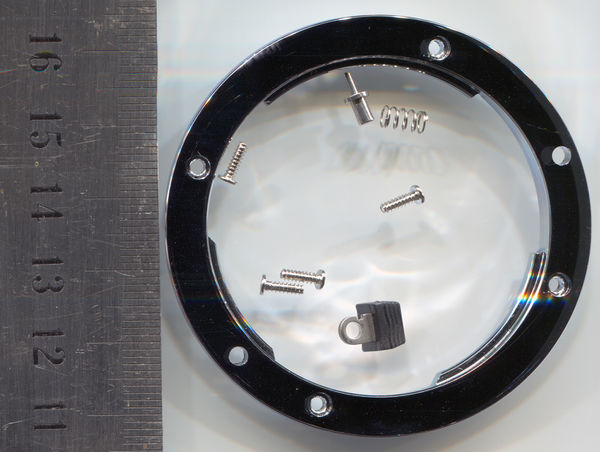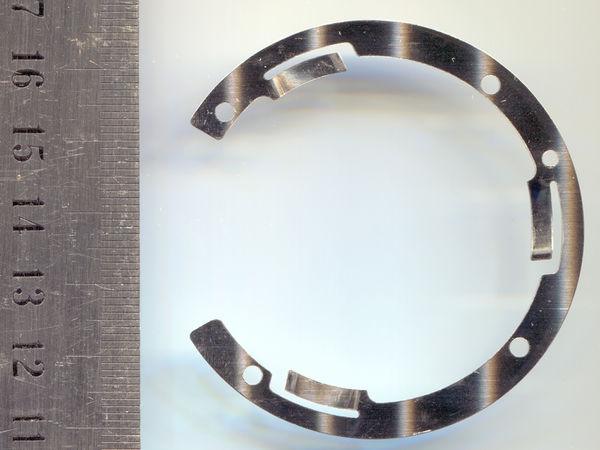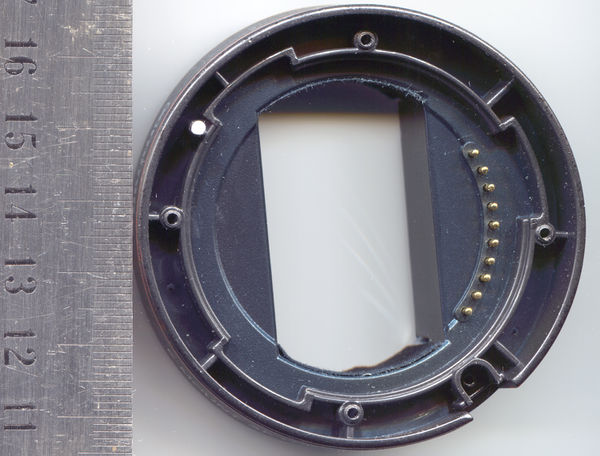 Full 4800 DPI scans available for download at: http://files.apertus.org/AXIOM-Beta/e-mount-scans.zip
Screws are 1.6mm outer thread diameter so could be M1.6, screw total length is 5,75mm
1.1.2

E-Mount to EOS Adapter *Inside*
Inside of our E-mount to EOS adapter sample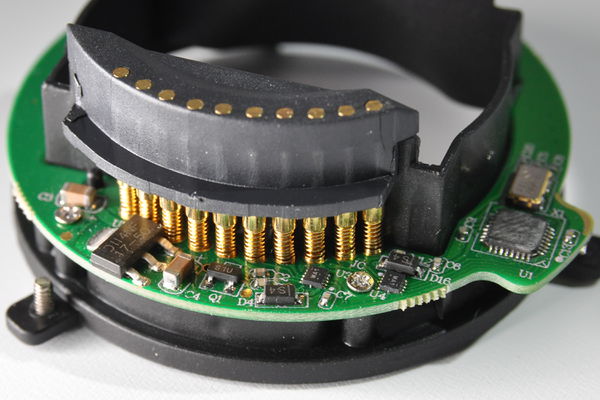 µC Board to translate from Sony E to Canon EOS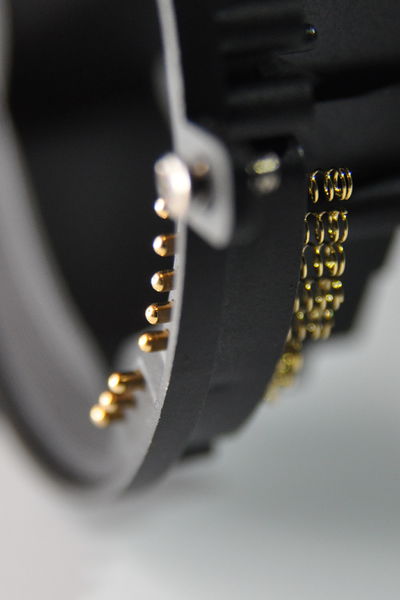 EOS contacts with springs on the PCB side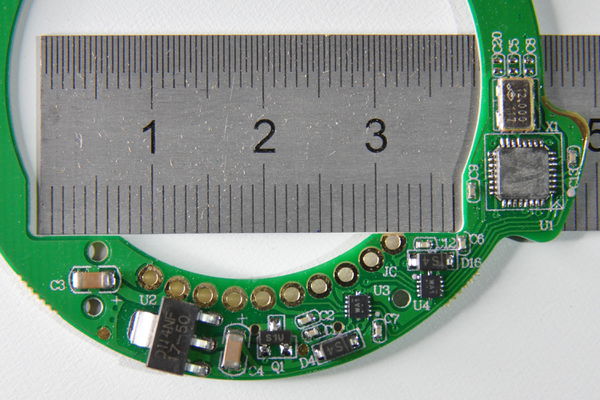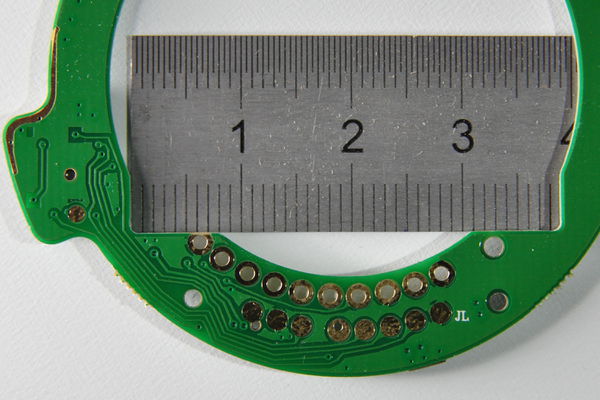 JL ... position of the EOS mount contact springs

We can replace this board with our own adapter board to connect to the cameras I/O's
1.1.3

Passive EF Mount
1.1.4

Active Canon EF Mount
body <-> lens communication protocol: http://www.magiclantern.fm/forum/index.php?topic=3796.0
pins and contacts: http://en.wikipedia.org/wiki/Canon_EF_lens_mount
1.1.5

Nikon F-Mount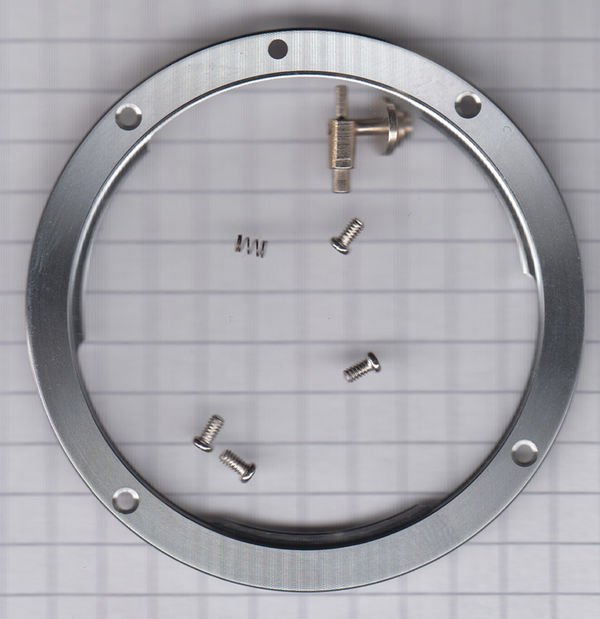 Picture of Nikon F bayonet mount components.
Measured Bayonet Thickness: 1.3mm
general information: http://en.wikipedia.org/wiki/Nikon_F-mount
body <-> lens communication protocol: https://nikonhacker.com/viewtopic.php?f=8&t=1437
technical drawing of F-mout http://en.wikipedia.org/wiki/Nikon_F-mount#mediaviewer/File:Nikon_F-mount_mechDwg.png
1.1.6

Micro Four Thirds Mount
body <-> lens communication protocol: http://preamp.org/revenge/four-thirds-communication-protocol
1.2

Open standard Mount
P+S Technik offers with their IMS mount an open standard. For AXIOM Beta the adapters are too expensive, but for sure an option for AXIOM Gamma.
Is there a affordable really open standard mount out there?
please add it here...
1.3

Talk with a Canon Lens
Research links for the Canon EF-S Protocol
Electronic follow focus experiment
---