Rosettes
From apertus wiki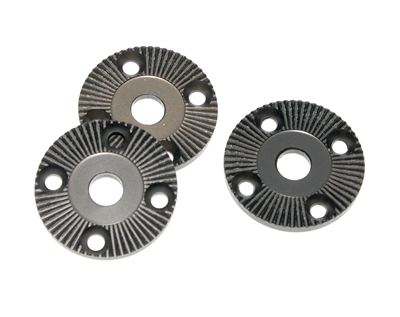 Rosettes are a great way to mount things together that should have their orientation be changed quickly and easily.
Unfortunately (like it is quite common in cinema technology) every manufacturer has established his own Rosette standard meaning that parts from different manufacturers don't fit together.
This page tries to assemble the essential specifications of all the different Rosette Systems:
1

ARRI Rosette
60 Tooth Rosette with M6 internal thread.
Outer Diameter: 31.8mm
2

Red Rosette
Outer Diameter: 28.8 mm ? (needs verification)
1/4"-20 internal thread (needs verification)
3

Aaton Rosette
4

Moviecam Rosette
28mm outer diameter
42 teeth
3/8" diameter mounting screw
5

Sony Rosette
Arri standard teeth, but with 1/4"-20 internal thread
6

Links
Rosette Supplier: http://www.ganter-griff.de/?cmd=normblatt&guid=b9185656-6e4c-4af0-b441-cae8619bb50a&LCID=1031&pageID=produkte
Red to Arri Standard Rosette Adapter: http://woodencamera.com/Rosette-Adapter.html
Sony handgrip rosette to Arri standard Rosette Adapter: https://www.zgc.com/webstore.nsf/p/arri-337414.html